I've been looking at really general sources of existential
risk
and visualizing them via the kitchen sink school of thematic mapping. So the earthquakes map was just a matter of time.
Here, data from
NCEDC.org
and the USGS and UC Berkeley have been sliced out into veneers based on magnitude, then glued onto and image that began it's life at NASA's
Visual Earth
and wrung into the Times projection (centered at the interesting bits). The result looks an awful lot like a fleet of Nickelodeon tankers spilled the world's supply of
floam
.
If historical epicenters were floaties, you could walk from Seattle to Wellington.
We only started recording hard core in the late 1960's. Also, you'd be right to assume that areas with more sensors record more earthquakes (but that's why they are there, so round and round we go), though they can pretty well pinpoint epicenters from all over.
You can
order a poster print of this map
than you should then mount within a flexible frame with unanchored pliable wall brackets behind shatterproof glass.
Same Thing, Different Perspective
Alternatively, here is the same data set duplicated in both north and south polar projections...
Prints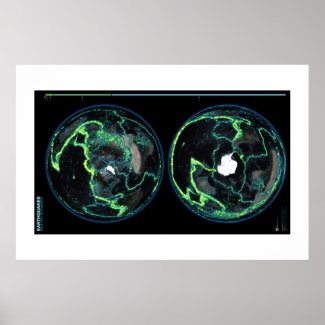 Other Sort-Of Related Maps
If this map is interesting to you, you might be amenable to plunging down the rabbit hole of related visualizations...